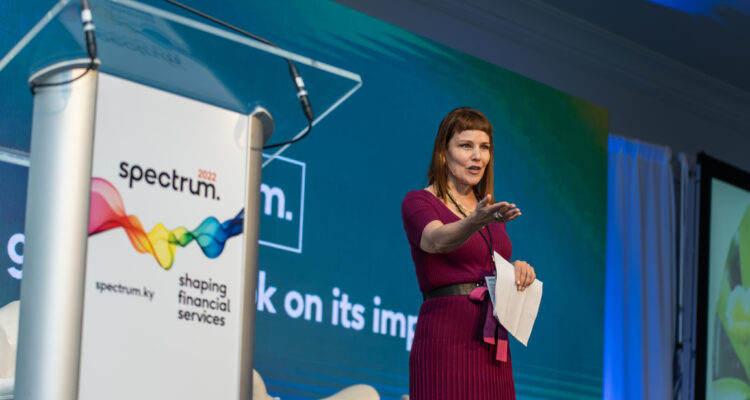 This year's Spectrum, the new financial services conference, saw over 200 stakeholders from the industry participate in an enthralling day of presentations and discussions on key issues affecting the industry.
One of the highlights of the day-long event was the presentation on environmental, social, and corporate governance (ESG) by international expert Ileana Salas, Non Executive Director and Founder and Chair of the Climate Governance Initiative, Central America and Caribbean, followed by a panel of experts with some passionate discussion of economic, social and governance sustainability issues.
Cayman Islands Premier Hon. G. Wayne Panton and Tourism and Transport Minister, Hon. Kenneth Bryan both participated with great insights from the floor on the topic of environmental and social sustainability.
"It was a very successful day," said Spectrum founder Paul Byles. "This year we really saw the emergence of ESG as a topic that stakeholders in Cayman are not only interested in, but also very passionate about how it should be addressed. The truth is that ESG has so many aspects to it and its impact cuts across our community in such a diverse manner that it would really take a full day to get through those, and based on the extensive feedback that is something I am looking to do in the near future."
"It was a true honour to address an audience that demonstrated such interest and passion in sustainability issues relating to financial services," said Salas.
Other panel discussions included overseas investment managers Tim Kacani, COO of Atlas Merchant Capital and John Pridjian, Co-Founder, Exponential Age Asset Management and Melissa Lim, Partner at Walkers, who gave their perspectives of how investment managers and their clients view the Cayman Islands.
"What I see onshore is that when we become aware of a potential negative global development which may impact the Cayman Islands, we tend to conclude that as a reputable jurisdiction, the Cayman Islands will address that issue fairly quickly", said Pridjian.
"That shows that it's not just a case of whether an issue may impact us but we have a reputation for being responsive in addressing global regulatory standards," said Byles who moderated the panel.
Tim Rossiter, Past President of the Cayman Islands Fund Administrators Association gave a presentation on the current state of the country's fund administration industry and outlined key challenges and potential solutions.  His presentation was followed by an insightful discussion on issues relating to that sector, moderated by Michelle Morgan, CEO and Co-Founder Titan Technology Group.
Acting Minister of Financial Services, the Honourable Katherine Ebanks-Wilks, spoke about the Ministry's future plans outlining the Ministry's commitment to the sector and its plans to craft a medium term strategy for the entire industry. Minister Andre Ebanks was on international duty dealing with matters relating to the country's AML/CFT framework.
"It was a pleasure to participate at Spectrum on behalf of Minister Ebanks who was away on official duties. I thought the day was filled with many important discussions and seeing the involvement of such a diverse group of stakeholders across the various sectors including the regulatory agencies, was very encouraging," said Ebanks-Wilks.
Senior representatives of the CIMA, the jurisdiction's financial services regulator, gave essential updates on development across the various sectors and engaged in a Q&A session with the audience.
This was the second year of the event which is unique in bringing together a broad cross section of industry service providers, regulators and senior government officials.